For Seniors: Read a Windows Mail Message
For Seniors: Read a Windows Mail Message
When you receive an e-mail on your Windows laptop, your next step is usually to read it. There are many options for what can come in or attached to an email these days, so look for those as you read.
1

Click an e-mail message in your Inbox.

Unread messages are in bold and messages you've read are unbolded.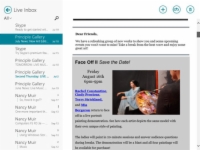 2

Click in the message body and use the scroll bar in the message window to scroll down through the message and read it.

You can also read any attachments on the email.
3

If you want to delete the message, simply click the Trash button in the top-right corner. If you want to save it, right-click and click the Move icon to move it into a folder, or just leave it in your inbox.

If you'd like to save an attachment to a storage disc or your hard drive, right-click the thumbnail of it in the message, click Save, and then choose the location to save the file to.

When you're travelling around with a laptop and reading e-mails, remember that people can look over your shoulder. If you're reading or writing sensitive information, consider displaying it when you get to the privacy of your home.