For Seniors: Protect Yourself Against Objectionable Internet Content
For Seniors: Protect Yourself Against Objectionable Internet Content
While browsing the Internet, you might accidentally stumble upon content you find objectionable. Using Internet Explorer's Content Advisor, you can protect yourself and anyone else who uses your computer from questionable material.
1

With Internet Explorer open, choose Tools→Internet Options.

The Internet Options dialog box appears. Click the Content tab to display it.
2

In the Content Advisor section, click the Enable button; if a confirmation dialog box appears, click Yes to proceed.

The Content Advisor dialog box appears. If there is no Enable button but Disable and Settings buttons instead, Content Advisor is already enabled. Click the Settings button to see the options and make changes if you wish.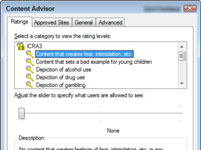 3

On the Ratings tab, click one of the categories (such as Depiction of Drug Use) and then move the slider to use one of three site screening settings: None, Limited, or Unrestricted.

Repeat this process for each of the categories.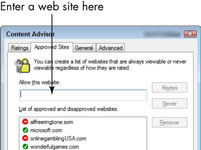 4

Click the Approved Sites tab and enter the name of a specific site that you want to control access to. Then click Always or Never.

If you choose Always, then users can view the site, even if it's included in the Content Advisor screening level you've set. If you choose Never, then noone can visit the site, even if it's acceptable to Content Advisor.
5

When you finish making selections, click OK.

If prompted to create a supervisor password, do so. Click Apply to save your settings, and then OK to close the dialog box.

If you want to view certain websites that you don't want others users of your computer to see, you can do that, too. On the General tab of the Content Advisor dialog box, make sure that the Supervisor Can Type a Password to Allow Viewers to View Restricted Content check box is selected, and then click Create Password.

In the dialog box that appears, enter the password, confirm it, and then enter a hint and click OK. Now if you're logged on as the system administrator, you can get to any restricted site by using this password.

To find rating systems that various organizations have created and apply them to Internet Explorer, click the Rating Systems button on the General tab. Here you can chose a system already shown there. Or click Add; then, in the resulting Open Ratings System File dialog box, choose another system to apply.