How To Print a Microsoft Works Document
How To Print a Microsoft Works Document
Microsoft Works is a suite of programs often installed on laptops, that includes a word processor. Printing documents you create with Microsoft Works is easy, and you can even make a few adjustments right before printing if you like.
1

Choose File→Print.

The Print dialog box appears.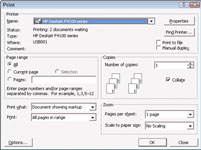 2

Select the printer to use from the Name list.

You can click the Find Printer button to select a network printer, if it doesn't appear in the Name list. You can also set preferences for the selected printer such as the print quality and whether to print in color or grayscale by clicking the Properties/Preferences/Advanced button.

The Properties button, along with some of the options shown in this dialog box, vary by printer manufacturer.
3

Select printer options and click OK.

If you don't want to print the entire document, select which pages to print from the Page Range section. You can print the current page, text you select before choosing the Print command, or a specified page or range of pages rather than the entire document.

Print extra copies of the document if you like, by typing a number in the Number of Copies box. You may want to select Collate to make it easier to assemble each set.

Always remember that — before you print — you should proofread your document and run a spell check to make sure it's letter-perfect. You can also change Page Setup options such as margins and page orientation before printing if you like.