What are Power Plans for a Windows 7 Laptop?
What are Power Plans for a Windows 7 Laptop?
A Windows 7 power plan can help you manage the battery life of your laptop. Windows 7 power plans have preset timings for actions such as dimming your screen or putting your computer to sleep. Managing battery life (the length of time it takes your laptop to run out of power) is important because without battery power, your laptop must be plugged in in order to use it.
If you don't like how a power plan manages the power on your laptop, you can customize it. You can also set some options separately, such as how much time lapses before your laptop automatically goes to sleep, and what happens when you press the laptop's power button or close the lid.
1

Choose Start→Control Panel→Hardware and Sound→Power Options.

The Power Options window appears.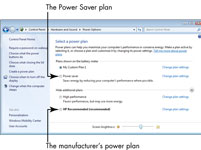 2

Locate the Hide Additional Plans section.

If this section isn't already displayed, click the downward arrow on the Show Additional Plans section; doing so changes the arrow's direction to upward and the Hide Additional Plans section displays.
3

Click the radio button next to a plan to select it, and then click the Close button to close the window.

Note that there might be a laptop manufacturer's power plan among your selections, such as the HP Recommended option shown here.

The Power Saver plan shown here in the Plans Shown on the Battery Meter section causes your computer to go to sleep more frequently and dims the screen brightness. A higher-performance setting will never put the computer to sleep and will have a brighter screen setting. If you run your laptop on a battery frequently, the Power Saver plan is your best bet.