How To Play Spider Solitaire on a Windows Computer
How To Play Spider Solitaire on a Windows Computer
Windows provides many games such as Spider Solitaire that you can play for fun. You play Windows Spider Solitaire like you might play real solitaire, by arranging cards in order on-screen.
1

Choose Start→Games, then double-click Spider Solitaire.

The Spider Solitaire window appears, and the cards are dealt in the opening tableau.

If you've never played the game before, the Select Difficulty window appears. Click your comfort level: Beginner, Intermediate, or Advanced.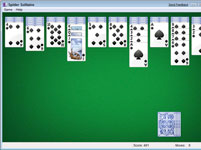 2

Drag cards to arrange them in descending order (King to Ace) by suit.

You can also click the card you want to move, then click the card you want to place it on top of, to move cards without dragging.

You can place any card in an empty slot, and not just Kings.
3

Continue playing until you win or get stuck.

As you arrange cards in one of the columns from King to Ace in the same suit, they are automatically removed. Your goal is to remove all the cards from the table in this way.

When you move a card off a stack, the card underneath is flipped over. When you run out of moves and all the empty slots are filled, click the pile of cards at the bottom of the screen to deal one card to the bottom of each column.

Stuck for a move? Try choosing Game→Hint. Various combinations of cards are highlighted in sequence to suggest a likely next step in the game. If you're not stuck but just bored with the appearance of the game, choose Game→Change Appearance and select another desk and background style.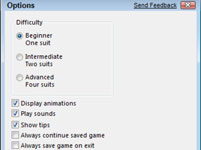 4

If desired, change the game options by choosing Game→Options.

Select the default difficulty level; the level controls the number of suits you play with. Other options mainly affect how (or whether) you save games and when sounds play. Click OK and choose whether to apply these settings now.
5

To close Spider Solitaire, click the Close button.

Click either Save or Don't Save in the Exit Game dialog box that appears.