How To Play Podcasts through Internet Explorer
How To Play Podcasts through Internet Explorer
A podcast is an audio news article, interview, or similar item. You can play a podcast through Internet Explorer and control its playback, pausing or jumping back and forth through the podcast, and controlling the volume. You might find a podcast anywhere on a web page, but typically you find them on news sites.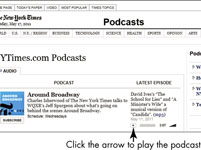 1

Click the little arrow on the right of any podcast.

The podcast begins playing.

In some cases, a podcast opens a new window with an animated display that plays during the podcast, though that doesn't happen at The New York Times site shown here.
2

Pause or skip through the podcast playback.

As the podcast begins playing, the diamond-shaped object on the progress bar moves slowly to the right, indicating where you are within the podcast. To skip ahead or to return to a previous part of the podcast, drag the diamond shape left (to move back) or right (to jump forward).

Click the Pause button (it has two little vertical bars on it) to stop audio playback. Click this button again (it changes to that right arrow button) to begin playing the podcast.
3

Adjust the playback volume.

Drag the wedge-shaped volume control to the right (to increase volume) or left (to decrease it).