For Seniors: Play Movies with Windows Media Player
For Seniors: Play Movies with Windows Media Player
The Windows Media Player is simple to use. Once it is set up, you have many of the same movie options available to you that you would have on an in home DVD or Blu-Ray player.
1

From the Start screen, begin typing Windows Media Player. Click the app name in the results that appear.

If this is your first time using the player, you may be prompted to select Recommended settings.
2

Click the Maximize button in the resulting Media Player window.

Maximize is in the upper-right corner of the window, next to the X-shaped Close button, represented by a square icon.
3

Click Videos in the navigation pane to the left.

A window will open with video files.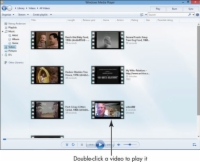 4

In the window listing video files, double-click the movie you want to play.

The movie file will open.

5

Use the tools at the bottom of the screen to do the following (if they disappear during playback, just move your mouse or tap your touch screen if you have one to display them again):

Adjust the volume of any soundtrack by clicking and dragging the slider left (to make it softer) or right (to make it louder). Click the megaphone-shaped volume icon to mute the sound (and click it again to turn the sound back on).

Pause the playback by clicking the round Play/Pause button in the center of the toolbar.

Stop the playback by clicking the square-shaped Stop button to the left of the Pause/Play button.

Skip to the next or previous segment of the movie by clicking the arrow buttons to the left or right of the Pause button.
6

Click the Close button to close Media Player.

You can also use the Video app to play video content. Just click the Video tile on the Start screen, locate the video in the my Videos section, scroll to the left, and click to play it. The playback controls are almost identical to those discussed for Windows Media Player. This also works in playing movie trailers when you have a video selection's details displayed.