For Seniors: Play FreeCell on a Windows Computer
For Seniors: Play FreeCell on a Windows Computer
FreeCell is a variation of solitaire you can play in Windows. Games such as FreeCell are often just what you need to do in Windows to recharge your batteries after a long day.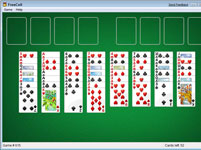 1

Choose Start→Games, then double-click FreeCell.

The FreeCell window appears, and the cards are dealt in the opening tableau.

If this is the first time you're playing games, Windows displays a Set Up Game dialog box. If it does, make choices (such as whether to check automatically for game updates) and click OK.
2

Drag cards in order from Ace to King and separated by suit, onto the home cells in the upper right-hand corner.

You can also click the card you want to move, then click the card you want to place it on top of, to move cards without dragging. You can also move cards within the tableau, by stacking cards in descending order, alternating colors.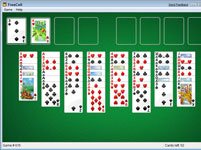 3

When needed, drag a card from the tableau to a free cell to free up the card underneath.

There are four free cells, located on the upper left. You can use those four slots to allow you to move up to four cards in a stack at once. (For example, you might want to move a Jack, 10, 9, and 8 all together onto a Queen.)

You can move only as many cards as there are free cells available plus one. Free spaces in the rows of card stacks also act as free cells.

To deal a new game, choose Game→New Game (or press F2). When prompted, choose Quit and Start a New Game.
4

To close FreeCell, click the Close button.

The game is ended and the FreeCell window is closed.

If you get hooked on this game, try Freecell.org, a website devoted to FreeCell. Here you can engage in live games with other players, and read more about the rules and strategies.