How to Play Chess Titans on a Windows Computer
How to Play Chess Titans on a Windows Computer
Chess is an ancient game of strategy. If you're a chess buff, you'll enjoy playing Chess Titans in the Windows version of chess, which pits you against a computer opponent.
1

Choose Start→Games, then double-click Chess Titans.

The Chess Titans window appears, and the chess pieces are placed in their opening positions. By default, a new game is always played against the computer, but you can choose to play another person when you start a new game.

If you've never played the game before, the Select Difficulty window appears. Click your comfort level: Beginner, Intermediate, or Advanced.
2

If you want to start a new game and play against a friend, choose Game→New Game Against Human.

If you play against the computer, you play white and move first. If you play with a friend, one of you moves first and the board automatically switches around to the black player's point of view so your friend can take his or her turn.

This is human companion sitting right there with you, by the way, and not an Internet opponent.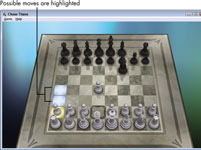 3

Click a piece; all possible moves are highlighted. To move the piece, click the space to which you want to move it.

Once you make a play, your opponent (either the computer or another human) moves a piece.

Choose Game→Options to set options for the game. You can prevent possible moves from being highlighted. whether you're playing as black or white, whether to show tips or play sounds, and the quality of graphics.

Don't like the look of your chessboard? You can modify it to look like a different material, such as wood. Choose Game→Change Appearance. In the Change Appearance window, click a style of chess piece and a style of chessboard. Click OK to save your settings.