For Seniors: Organize Favorite Websites in Internet Explorer
For Seniors: Organize Favorite Websites in Internet Explorer
Just like anything else on your laptop, you can organize favorites into folders to make them easier to find. With Internet Explorer open from the Desktop, click the Favorites button to open the Favorites pane.
1

Click the arrow on the right of the Add to Favorites button and then choose Organize Favorites.

The Organize Favorites dialog box will open. You should see any websites you have added to your Favorites list so far.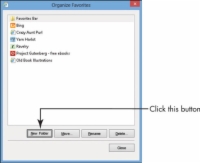 2

In the resulting Organize Favorites dialog box, click New Folder to create a new folder to store items in and give it a name.

You can also click an item in the Favorites list and then click Move, Rename, or Delete to organize or clean up your favorites list.
3

When you finish organizing your Favorites, click Close.

If you create new folders in these steps, you need to manually transfer files into those folders. To do this, just display the Favorites Center and click and drag a file listed there into a folder. To move multiple items, hold the Control Key while making selections. Your favorites will become highlighted and you can drag as a collective into a folder.