How to Open Hotmail E-mail Attachments
How to Open Hotmail E-mail Attachments
Windows Live Hotmail allows you to open e-mail attachments and even edit compatible files using Office Web Apps. Hotmail allows the editing of Word, Excel, PowerPoint, and OneNote-compatible e-mail attachments through Office Web Apps. Files in other formats can be downloaded to your computer and opened using its programs.
1

In Windows Live Hotmail, click an e-mail message that includes an attachment.

E-mails with attachments are preceded by a paperclip icon. When you click an e-mail, its contents are displayed, and attachments are listed next to an appropriate icon.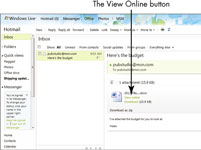 2

Click the View Online link to view an attachment's contents.

The appropriate Office Web App opens, displaying the file's contents.

To download the attachment to your computer, click the Download link.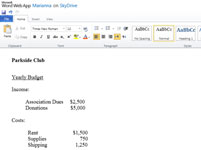 3

Click the Edit in Browser link to edit the file using Office Web Apps.

Office Web Apps offers a simplified version of tools contained in the full Microsoft Office programs, and to access them, you must edit your document in the browser.

Use the buttons and tabs in Office Web Apps to work on the file, or click the Open in XXX button to work on the document using the software installed on your computer. For example, click the Open in Excel button to edit a spreadsheet using Excel on your computer.

When you've finished making changes, use the commands on the File menu to print or close the file. When you open and save a document in an Office Web app, it is saved to SkyDrive. Changes you make are automatically saved as well.