How To Open an Existing Microsoft Works Document
How To Open an Existing Microsoft Works Document
After you create a Microsoft Works document and save it, you can open the file to add to or edit its contents, or to print it. With the Microsoft Works word processor, you can create anything from simple letters to posters or brochures. You can even print envelopes or labels, so you can send those holiday newsletters or fund-raising letters for the local food bank on their way.
To create these wonderful documents, you may have to work on them in more than one session. If so, you'll need to save your document at some point and open it later on when you are ready to work on it again.
The word processor is just one of the programs included in MS Works; you can follow these same steps to open any of the files you create with it (and not just word processing documents).
1

To open a file after you save it, with the Works word processor open, choose File→Open.

The Open dialog box appears.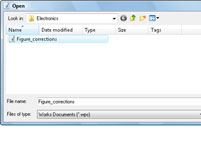 2

Locate the file on your laptop, storage device, or disc by opening the Look In list and clicking the drive or folder where your file is located.

Files stored in the folder you selected are displayed in a list.
3

Click the file you want to open, and click the Open button.

The document opens, ready for you to edit or print it.