For Seniors: Manage Your Money with the Finance App on Your Windows Laptop
For Seniors: Manage Your Money with the Finance App on Your Windows Laptop
Among the many things you can do on your Windows laptop, you can also manage your finances. The Finance App allows you to get quick insight into the stock market with just the touch of a tile.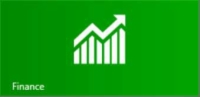 1

If you're connected to the Internet the Finance app tile typically shows the current stock market values and sometimes just an optimistic logo of graph lines topped by an ascending arrow plus the word Finance in the lower left corner.

This gives you a quick update at a glance.
2

Click the Finance tile.

You will see a current article from Bing Finance as well as the latest Dow, NASDAQ, and S&P numbers from services such as TheStreet.com.
3

Scroll to the right and click a Get Started tool.

This tool offers a tour of Finance features and a tool to set up your stock watch list so you can quickly check items of interest from the Finance home screen.