For Seniors: Invite Friends to Your Social Network
For Seniors: Invite Friends to Your Social Network
One of the great things about social networks is that they are social! You wouldn't be on here unless you wanted to connect with people. These steps tell you how to invite those that you want to connect with.
1

Having logged in to your Facebook account, with your home page displayed, click Friends.

Make sure you have already signed up for an account.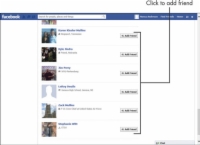 2

Click find Friends, and in the page that appears, click the Add Friend button next to a suggested Facebook member's name, or enter a name and any information you have for somebody else you know such as high school or hometown, and then click the Add Friend button for that person in the results that appear.

To view people who have sent you friend requests, click the Friend Requests icon at the top (it looks like two silhouettes) and on the list that appears, click the Add Friend button to add that person as a friend.