For Seniors: How to View Apps on a Windows 8.1 Laptop
For Seniors: How to View Apps on a Windows 8.1 Laptop
Windows 8.1 gives you the options of viewing all apps or just the open apps. As with most things in Windows 8.1, the place to start is the Start screen.
1

On the Start screen, click the downward arrow shaped All Apps button in the lower left corner.

You may need to move your mouse on the screen for it to appear.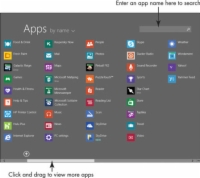 2

Click on the horizontal scrollbar and drag to the right to view more apps.

You will probably see several available.
3

Enter an app name in the Search field to narrow down to a smaller list of apps.

Click the app to open it. You can also view only the apps you have open.
4

Move your mouse to the upper-left corner of the Start screen.

You should see a thumbnail of an app appear.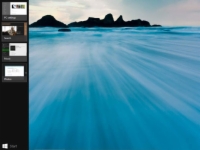 5

Drag your mouse down the left edge of the screen to see all open apps.

You will see app thumbnails appear.
6

Click to open the item whose thumbnail appears to the right of the mouse cursor. The app opens.

The Open Apps feature also works from the Desktop. When you display recently opened apps from the Desktop or Start screen, you see a Start Screen thumbnail at the bottom of the display that you can click to go to the Start screen and hide the open apps display. You can also right-click this Start button to access more commands.

With open apps displayed, you can also right-click an app and then click the Close command on the menu that appears to close the app.