For Seniors: Get the Calendar App on Your Windows Laptop
For Seniors: Get the Calendar App on Your Windows Laptop
You can use the Windows Calendar app to stay on schedule. Click the Calendar app tile on the Start screen (it contains, logically enough, a little calendar icon), and you can save information about various events and appointments. Those items generate an e-mail to remind you when the event is imminent.
1

Click the Calendar tile on the Start screen.

The Calendar app opens.

2

Right-click anywhere on the screen to display the toolbar.

Click on a view: Day, Work Week, Week, or Month.
3

Right-click anywhere on the screen again and then click the New button to create a new event.

A form will appear.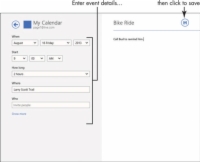 4

In the form that appears, enter the details about the appointment and then click the Save button to save the item to your calendar.

The item has been saved to your calendar.
5

To edit an event saved to the Calendar app, simply click it. The entry form opens for you to enter and save edits or delete the item.

To quickly scroll forward or backward in time in the Calendar display, click the arrow buttons to the right and left at the top of the calendar display.