How To Get Remote Assistance for Your Windows Laptop
How To Get Remote Assistance for Your Windows Laptop
Remote Assistance on your Windows laptop can be a wonderful feature for new computer users because it allows you to permit somebody else to view or take control of your laptop from her own computer no matter where she is.
You can contact that person by phone or e-mail, for example, and ask for help. Then, you can send an invitation using Windows 8.1 Help. When that person accepts the invitation, you can give her permission to access your system.
Be aware that by doing so you give the person access to all your files, so be sure this is somebody you trust. When that person is connected, she can either advise you about your problem or actually make changes to your laptop to fix the problem for you. To use Remote Assistance, you and the other person first have to have Windows 8.1 and an Internet connection.
1

From the Desktop, press Win+I and click Control Panel.

The Control Panel will open.
2

Click System and Security and then under the heading System, click Allow Remote Access.

This will change the Security settings, allowing someone else access to your computer.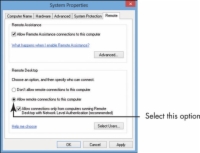 3

On the Remote tab of the System Properties dialog box that's displayed, select the Allow Remote Assistance Connections to This Computer check box.

Click OK.
4

Enter the search term remote assistance in the Control Panel Search field.

Options will appear for you to choose from.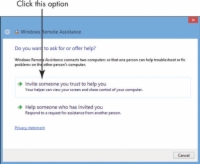 5

Click the Invite Someone to Connect to Your PC and Help You, or Offer to Help Someone Else link.

On the window that appears, click the Invite Someone You Trust to Help You link.

If Windows Firewall or a third-party firewall is active, you may have to disable that feature to allow remote access to your laptop.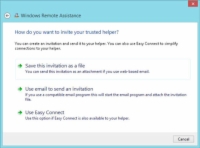 6

On the page that appears, you can choose to use your e-mail to invite somebody to help you.

You have three options:

Click the Save This Invitation as a File option and follow the instructions to save it as a file; then you can attach the file to a message using your web-based e-mail program.

Click the Use E-mail to Send an Invitation option to use a pre-configured e-mail program to send an e-mail. In the e-mail form that appears, enter an address and additional message content, if you like, and send the e-mail.

Click Use Easy Connect to get a step-by-step wizard to help you with the remote assistance process.

7

In the Windows Remote Assistance window, note the provided password and provide it to your remote helper.

When that person makes an incoming connection, use the tools there to adjust settings, chat, send a file, or pause, cancel, or stop sharing.
8

When you're finished, click the Close button to close the Windows Remote Assistance window.

Remember that it's up to you to let the recipient know the password — it isn't included in your e-mail unless you add it in the e-mail message.

If you no longer want to use Remote Assistance, it's a good idea to return to the System window of Control Panel and, in the Allow Remote Access dialog box, uncheck Allow Remote Assistance Connection to This Computer on the Remote tab.