For Seniors: Free Up Disk Space with Disk Cleanup
For Seniors: Free Up Disk Space with Disk Cleanup
Run the Windows Disk Cleanup utility to free up hard disk space whenever your hard disk is getting full and your computer is running slow. You see, to start up a program or open a file for editing, your computer must retrieve a file from the hard disk and open it.
If a program or document file is saved in several places (something that happens often when a hard disk is filling up), then starting a program or opening a document will take a long time. To improve your computer speed and free up hard disk space by removing files you no longer need, run Windows Disk Cleanup.
The best way to speed up a slow hard disk is to defragment it using Disk Defragmenter. Defragmenting rearranges data on a disk so that the parts of a file are saved close together, speeding up the time it takes to retrieve a file.
1

Choose Start→Control Panel→System and Security and then click Free Up Disk Space in the Administrative Tools.

The Disk Cleanup dialog box appears.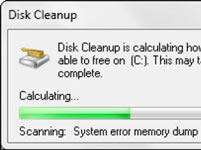 2

Choose the drive you want to clean up from the drop-down list (typically drive C) and click OK.

Disk Cleanup calculates how much space you will be able to free up, and displays the Disk Cleanup dialog box. Disk Cleanup estimates how much space can be cleared on your hard drive and displays the suggested files to delete in a list.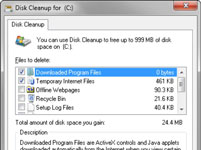 3

Select the file(s) you want removed.

Disk Cleanup initially suggests some files to remove, placing checkmarks in front of them. You can remove those checkmarks and/or select additional files.

Click the View Files button in the Disk Cleanup dialog box to see more details about the files that Windows proposes to delete, including the sizes of the files and when they were created or last accessed.
4

After you select all the files to delete, click OK.

The selected files are deleted. Click the Close button to close the Control Panel.

If you can't free up enough disk space for your needs, you might try using a flash drive (they are available in sizes up to 32GB) to store some of your files. These little storage devices plug in to a USB port on your laptop, are wonderfully portable, and are great for backing up files.