How To Format Windows Live Hotmail Messages
How To Format Windows Live Hotmail Messages
Windows Live Hotmail provides tools to format the text in a message so that it looks pretty, funky or professional. Format a Hotmail message by changing fonts, adding color, and more, just as you would in a word-processed document.
1

Create a new Hotmail e-mail message (or open an existing message and click Reply or Forward).

A message form appears.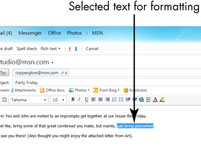 2

Enter text, and then click and drag with your mouse or touchpad to select the text you want to format.

The selected text is highlighted.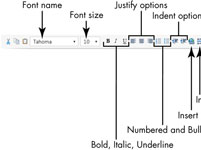 3

Use the formatting tools to make changes to the text as desired.

Change the style and size of text by making selections from the Font Name and Font Size drop-down lists. Add emphasis by clicking the Bold, Italic, or Underline buttons. Align text in a paragraph with the Justify Left, Justify Center, and Justify Right buttons. Start a numbered or bulleted list by clicking the Insert Numbered List or Insert Bulleted List buttons.

Add or remove a left margin indent to the current paragraph by clicking the Increase Indent or Decrease Indent buttons. You can insert a hyperlink to a website or online document by clicking the Insert Hyperlink button. Insert a horizontal line by clicking the Insert a Line button. Colorize or highlight text by clicking the Text Color or Text Highlight buttons.
4

Click the Send button.

The message is sent.