How To Format Text in a Microsoft Works Document
How To Format Text in a Microsoft Works Document
You can format text in a Microsoft Works document in order to change how it looks. Format text to change its size, apply effects such as bold or italic, or change its font (typeface style).
Try not to use too many formatting bells and whistles in a single document, as the formatting might become distracting or make the document difficult to read. A good guideline is to use only two fonts on a single page and to use effects such as bold or shadowed text for emphasis only.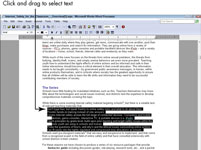 1

Click and drag your mouse over the text you want to format.

The text is highlighted to show that it's selected.
2

Choose Format→Font.

The Font dialog box appears.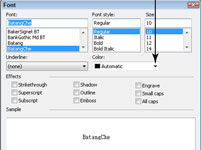 3

Make selections from the Font dialog box.

Select a font from the Font list. Your selection is previewed in the large box near the bottom of the dialog box. Select a font style such as Bold or Italic from the Font Style list if desired; font styles are useful for emphasis. Choose a text size from the Size list. The higher the point-size number, the larger the text.

To underline the selected text, choose a style from the Underline drop-down list. Add color to the text by selecting a color from the Color drop-down list. Click any of the Effects check boxes to apply effects to the text.
4

Click OK.

The formatting options you selected are applied to the selected text.

You can also use the Formatting toolbar to apply formatting to selected text. For example, you can click the Bold button or choose a different font from the Font drop-down list. If you don't see the Formatting toolbar, choose View→Toolbars→Formatting.