How to Format Numbers in a Microsoft Works Spreadsheet
How to Format Numbers in a Microsoft Works Spreadsheet
Microsoft Works Spreadsheet helps you to organize data and crunch numbers. You can format the numbers in a spreadsheet to look like currency ($23.50), display a specific number of decimal points (201.0008), or use a comma (4,112,987).
You can format data in a spreadsheet, applying a specific font or color, just as you do for text in a word processor. You can also fill each cell with color, or apply a border to cells.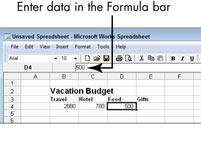 1

Select the cells containing the numbers you want to format.

To select a single cell, click it. To select multiple cells, click a cell and drag up, down, right, or left.
2

Choose Format→Number.

The Format Cells dialog box appears with the Number tab displayed.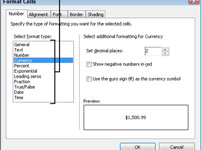 3

Click an option in the Select Format Type list, such as Currency or Percent.

After you select a format, you'll usually see, on the right side of the dialog box, additional options for indicating how you want the data to display.

For example, if you choose the Currency format, you can click the up or down arrow on the Set Decimal Places field to specify how many decimal places the number should have —for example, 22.10 (two decimals), 22.1 (one decimal), or 22 (no decimals). Your settings appear in the Preview box.

Currency and General are common options for formatting numbers in lists or budgets, but they aren't the only ones. You can even format numbers to display as dates, times, or fractions. If you want a zero to appear as False (in other words, no value) and any number (that is, any value at all) to appear as True, choose the True/False format type.
4

Click OK.

The formatting is applied to the selected cells.