How To Find Windows' Gadgets Online
How To Find Windows' Gadgets Online
Windows provides gadgets through its Desktop Gadget gallery, although you can search for more gadgets online. Gadgets are useful apps, and you'll find a collection of them on Microsoft's website.
Gadgets, by the way, are little applications (such as a clock or a calendar) that fit on the Windows 7 desktop. Using Windows gadgets, you can quickly check the weather, review your calendar, check e-mail or the latest news, and more.
1

Right-click the desktop and choose Gadgets.

The Gadget Gallery appears.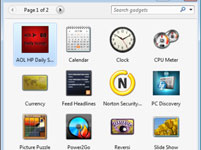 2

In the Gadgets window, click the Get More Gadgets Online link.

The Desktop Gadgets page opens in the web browser.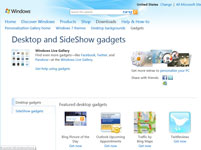 3

Locate the gadget you want, and click its Download button.

Scroll down to view featured gadgets. When you find one that interests you, click on it to download it to your computer.
4

In the dialog box that appears, click Open, and then in the Security Warning dialog box that appears, click Install (unless you've changed your mind, in which case, click Don't Install).

The gadget appears on your desktop.

There are other ways you can personalize Windows, such as adding colorful desktop backgrounds (wallpapers) or Windows themes that coordinate window colors, pointers, and sounds. Click the Personalize Your PC link on the Desktop Gadgets page to investigate these other personalization options.