For Seniors: Find Contacts with the People App on Your Windows Laptop
For Seniors: Find Contacts with the People App on Your Windows Laptop
The People app on the Windows laptop is a combination address book and contact management app. It also provides you with access to your social networking accounts such as Facebook and Twitter.
You access the People app via the People tile on the Start screen, which sports a small icon of the head and shoulders of two "people" along with rotating pictures of your contacts from social networking sites, if you are logged in with an account that has social networking set up.
When logged into an account, any contacts you have set up in that account, such as e-mail or Facebook, are imported into the People app automatically.

1

Click the People tile on the Start screen.

In the top right corner, you see icons for any accounts you are connected to such as a Microsoft Live account or Facebook.
2

Right-click and then click the New Contact button.

The New Contact button is located in the bottom right hand corner.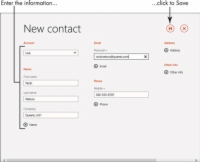 3

Enter that person's details such as their name, company, e-mail address, phone numbers, and address, and then click the Save button to save that person's information.

Click the Back button to go back to the People Home page.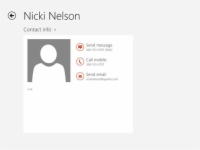 4

Click a contact in the list of contacts on the right to display contact details.

From this screen, you can send an instant message, call a phone, or send e-mail if you have stored that information for the contact.

From the People home page, click the What's New area to read the latest postings by your friends on social networking sites.