For Seniors: Enable the Windows Firewall
For Seniors: Enable the Windows Firewall
A firewall keeps outsiders from accessing your laptop via an Internet connection. You will want to check and make sure this is enabled to protect you from anyone seeking to steal your information.
1

Right-click the Start button on the Desktop.

Click on Control Panel in the menu that appears.
2

Click System and Security→Windows Firewall.

The Windows Firewall window will appear.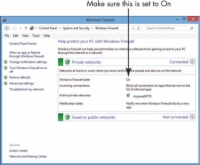 3

In the Windows Firewall window that appears, check that the Windows Firewall is marked as On.

If it isn't, click the Turn Windows Firewall On or Off link in the left pane of the window.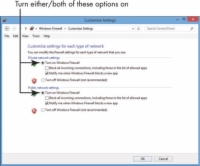 4

In the resulting Customize Settings window, select the Turn on Windows Firewall radio button for Private Networks (such as your home network) and/or Public Networks (such as in a coffee shop) and then click OK.

It's always a good idea to have the firewall turned on when you go online using a public "hot spot" connection, such as at an Internet café. If you have a home network, you may already have a firewall active in the router (a piece of equipment used to set up the network), so the Windows firewall setting could be optional in that situation.
5

Click the Close button to close Windows Security Center and the Control Panel.

A firewall is a program that protects your laptop from the outside world. This is generally a good thing. If you have set up a Virtual Private Network (VPN), often used by corporations, that you connect your laptop to, be aware that using a firewall with a VPN results in you being unable to share files and use some other VPN features.

Antivirus and security software programs may offer their own firewall protection and may display a message asking whether you want to switch. Check their features against Windows and then decide, but usually most firewall features are comparable. The important thing is to have one activated.