How To Display the Windows Live Hotmail Reading Pane
How To Display the Windows Live Hotmail Reading Pane
You can display a Reading Pane in Windows Live Hotmail to make it easier to read all your messages. Normally, the messages in Hotmail appear in a long list, and when you click one to read it, the list disappears and the contents of the message you clicked is displayed in the full window.
If you choose to display the Hotmail Reading Pane, you can have it appear at the bottom of the window, or along the right side. With the Reading Pane displayed, when you click a message in the message list, its contents appears in the pane. This makes it easier for you to scan through your messages.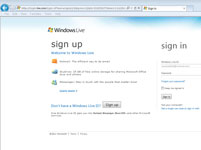 1

Display the Windows Live home page, sign into your account, and click the Hotmail link to go to the Hotmail portion of Windows Live.

Enter your new Windows Live ID and password, and then click the Sign In button. The Windows Live Home page appears. Click the Hotmail link at the top of the page, and your Inbox appears.
2

Choose Options→More Options.

The Options window appears.
3

Click Reading Pane Settings (under Reading Email).

The Reading Pane Settings window appears.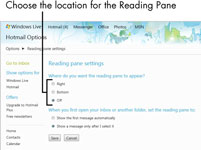 4

Select the reading pane options you want and click Save.

First, choose where you want to display the Reading Pane, along the right, bottom, or not at all. Then choose what happens — Hotmail can automatically display the contents of the first message in the Reading Pane if you like, or only display a message's contents after you click it.

When you're done selecting options, click Save to apply them.