How To Create Windows 8.1 Shortcuts on a Laptop
How To Create Windows 8.1 Shortcuts on a Laptop
Shortcuts are handy little icons you can put on your Windows 8.1 Desktop for quick access to items you use on a frequent basis. This allows you to open the program directly from the shortcut without having to locate it on your computer.
1

To create a new shortcut, first click the File Explorer icon on the taskbar.

The File Explorer window will open.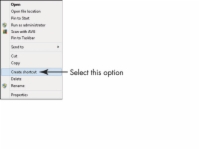 2

Locate a file or folder and then right-click and choose Create Shortcut.

A corresponding item labelled "shortcut" appears in the list of files and folders.

3

Click and drag the shortcut that appears to the Desktop. Double-click the icon to open the file or folder.

Another method for sending a shortcut to the Desktop is to select the file or folder in File Explorer, and then with the Home tab displayed, click the Copy to item in the Organize tools and choose Desktop.

To restore your Desktop to its original shortcuts, right-click the Desktop and choose Personalize. Click the Change Desktop Icons link to the left. In the Desktop Icon Setting dialog box that appears, click the Restore Default button, which returns to the original Desktop shortcuts set up on your computer when you bought it.

You can create a shortcut for a brand-new item by right-clicking the Desktop, choosing New, and then choosing an item to place there, such as a text document, bitmap image, or contact. Then double-click the shortcut that appears and begin working on the new file in the associated application.