For Seniors: Create Shortcuts to Favorite Files and Folders
For Seniors: Create Shortcuts to Favorite Files and Folders
In Windows, you can create shortcuts to your favorite files and folders to make them easier to open. Shortcuts to files or folders are placed on the Windows desktop where you can use them to open the file or folder quickly without having to search for them.
1

Right-click Start, and choose Open Windows Explorer.

The Windows Explorer window (also called Computer) opens.
2

Double-click a folder or series of folders to locate the folder or file that you want to create a shortcut to.

As you double-click each folder, the folder's contents is displayed. Eventually, you will dig far enough to find the file or folder you want to create a shortcut for.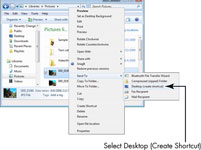 3

In Windows Explorer, right-click the file or folder that you want and choose Send To→Desktop (Create Shortcut).

A shortcut appears on the desktop. To open the file in its originating application or a folder in Windows Explorer, simply double-click the desktop shortcut icon.

If you happen to like drag and dropping, there is another way to create a shortcut to a favorite file or folder. In the Windows Explorer window, right-click the file or folder and drag it onto the desktop. When you release the mouse button, a shortcut menu appears. Select Create Shortcuts Here from the menu.