For Seniors: Create Custom Signatures for Microsoft Live Hotmail
For Seniors: Create Custom Signatures for Microsoft Live Hotmail
A signature is a quick way to add some closing information, such as your name and organization, to the end of every Microsoft Live Hotmail message. If you use Hotmail for personal use only, your signature might include a cute phrase or your home/cell phone numbers.
1

In Hotmail, choose Options→More Options.

The Hotmail Options page appears.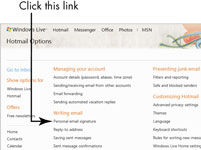 2

Click the Personal Email Signature link (under Writing Email).

The Personal Email Signature form opens.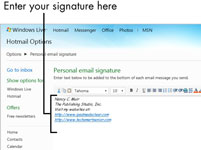 3

Type your signature.

If you'd like, you can use the formatting tools on the toolbar to change the look of the text, including the font, font size, or effects such as bold or italic.

If you have a website and want to include a link to it in your signature, click the Insert Hyperlink button, enter the address in the text box that appears, and then click OK.
4

Click Save.

The signature is saved, and is included at the end of any new messages, or messages you reply to or forward.

Remember that if you attach your signature to every outgoing e-mail, including e-mail replies, whoever you communicate with will get the information provided there. Consider issues of identity theft before you provide your address, phone number, and other personal information to all and sundry.