For Seniors: Create a Windows System Restore Point
For Seniors: Create a Windows System Restore Point
Create a Windows system restore point so you can restore your files to a point in the past before problems began. A Windows system restore point backs up your system files, allowing you to easily restore a perfectly running Windows system when needed.
It's a good idea to create a system restore point prior to making any major changes to your system, such as adding new hardware or installing new programs. That way, if something goes wrong with the installation, you can return your system to the way it was before you started.
1

Choose Start→Control Panel→System and Security, and in the resulting System and Security dialog box, click the System link.

The System dialog box appears.
2

Click the System Protection link in the left panel.

The System Properties dialog box appears.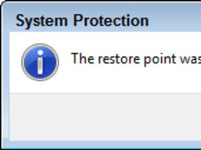 4

Enter a name to identify the restore point, such as the current date or the name of a program you are about to install, and click Create.

Windows displays a progress window. When the restore point is created, a message telling you so appears. Click Close to close the message box, and then click Close to close the System Protection dialog box, and Close again to close the Control Panel.

A more drastic option to System Restore is to run the system-recovery disc that probably came with your laptop or that you created using discs you provided.

Keep in mind, however, that system recovery essentially puts your laptop right back to the configuration it had when it was carried out of the factory. That means you lose any software you've installed since then, and any documents you've created since you began to use it. (A good argument for creating system restore points on a regular basis, don't you think?)