For Seniors: Create a Music Playlist in Windows Media Player
For Seniors: Create a Music Playlist in Windows Media Player
A playlist is a saved set of music tracks you can create yourself — like a personal music album. The Windows Media Player allows you to compile playlists of your favorite music that can be accessed at any time on your laptop.
1

From the Start screen, begin to type Windows Media Player.

Click the Windows Media Player app when it appears in the results.
2

Click a Library in the Navigation pane on the left and then click the Create Playlist button. A new playlist appears in the Navigation pane.

Type a name for the playlist, and then click anywhere outside the playlist to save the name.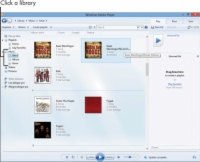 3

Click a category (for example, Music) to display libraries, and then click a library in the left pane; the library contents appear. Click an item and then drag it to the new playlist in the Navigation pane.

Repeat this step to locate additional titles to add to the playlist.
4

To play a playlist, click it in the Library pane.

Click the Play button at the bottom of the screen.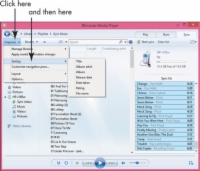 5

You can organize playlists by clicking the Organize button and then choosing Sort By. In the submenu that appears, sort by features such as title, artist, or release date.

You can also right-click a playlist in the Library pane and choose Play to play it or choose Delete to delete the list, although the original tracks that were added to the list still exist.