How To Connect to People Through Discussion Boards and Blogs
How To Connect to People Through Discussion Boards and Blogs
A discussion board, also sometimes referred to as a forum, is a place where you can post written messages, pictures, and videos on a topic. Others can connect with you, and you can reply to their postings. In a variation on discussion boards, you'll find blogs (short for web logs) everywhere you turn, and you can also post your comments about blog entries.
Discussion boards and blogs are asynchronous, which means that you post a message (just as you might on a bulletin board at the grocery store) and wait for a response. Somebody might read it that hour — or ten days or several weeks after you make the posting. In other words, the response isn't instantaneous, and the message isn't usually directed to a specific individual.
You can find a discussion board or blog about darn near every topic under the sun, and the information on them can be tremendously helpful when you're looking for answers. They're also a great way to share your expertise — whether you chime in on how to remove an ink stain or announce the latest breakthroughs in your given field.
Postings are likely to stay on the site for years for people to reference, so be aware that what you read there may be up to date or not that current.
1

To try out a discussion board, enter this URL in your browser address field: http://answers.microsoft.com/en-us/.

Note that some discussion boards require that you become a member with a username and that you sign in before you can post comments. If you want to post a reply in Step 4, you will first have to join the site.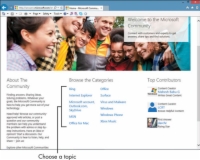 2

Click a topic area, such as Internet Explorer , to see discussion subtopics.

Continue to click on subtopics until you get to a discussion of interest and then read the original posting and any responses.
3

When you click a posting that has replies, you'll see that the replies are organized in chronological order.

You can review the various participants' comments as they add their ideas to the conversation.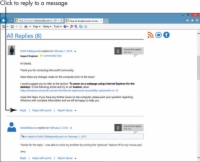 4

To reply to a posting yourself, first click the posting, and then click the Reply link, enter your comments, and click Submit.

With any site where users share information, you can stay safer if you know how to sidestep some abuses, including data mining (gathering your personal information for commercial or criminal intent), social engineering ploys that try to gain your trust and access to your money, ID theft scams, and so forth. Remember that if you're careful to protect your privacy, you can enjoy socializing online with little worry.