For Seniors: Choose a Windows 7 Theme for Your Laptop
For Seniors: Choose a Windows 7 Theme for Your Laptop
Windows 7 has built-in themes that you can apply to change the appearance of your windows, desktop background, screen saver, and even mouse cursors and system sounds. Windows themes are coordinated settings that are applied as a set, so they are a quick and easy way to change the look of your laptop.
If you choose a Windows theme and then modify the way your laptop looks in some way — for example, by changing the color scheme — that change overrides the setting in the theme you last applied.
1

Right-click the desktop and choose Personalize.

The Personalization window opens.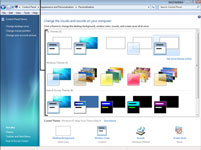 2

Select a theme.

Themes are listed by group. The My Themes group contains themes you might have created yourself; the Aero Themes group offers up themes related to nature, landscapes, light auras, and your country of residence; the Basic and High Contrast Themes group offers a variety of easy to read contrast settings in a variety of themes. Click the theme you want to apply.

Aero themes feature transparent window title bars.

To create your own theme, simply apply an existing theme, make any changes to it you like by using the various Appearance and Personalization settings options, and then — in the Personalization window — click Save Theme. In the resulting dialog box, give your new theme a name and click Save. It will now appear on the My Themes list.
3

Click Close.

The dialog box closes and the theme is applied.