For Seniors: Change Your User Account Type
For Seniors: Change Your User Account Type
Only users with administrator status can create and make changes to user accounts. So, before beginning this process, it's a good idea to ensure that you have administrator status and can provide an administrator password if you are prompted to do so.
1

From the Desktop, press Win+I and then click Control Panel.

You set the type of account (administrator or standard user; administrators have access to all areas on your computer) for the logged-in user in the Desktop Control Panel.
2

Click User Accounts and Family Safety.

This gives you options for what type of settings you would like to add to a user account.
4

Click Change Your Account Type.

If prompted, you may have to enter an administrator password to go further.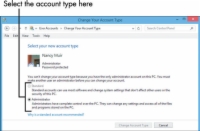 5

Select the type of account you want to create in the screen:

Standard: A standard user can access his own account, but can't make the changes to user account settings that an administrator can.

Administrator: An administrator can do things such as creating and changing accounts and installing programs.
6

Click the Change Account Type button and then close the Control Panel.

Congratulations! Your account type is now changed.