How to Change Page Setup of a Microsoft Works Document
How to Change Page Setup of a Microsoft Works Document
The page setup settings in Microsoft Works' word processor determines such things the margin size and page orientation. Change page setup in MS Works when you first create a document, or anytime prior to printing the document on paper.
1

With the document whose setup you want to change displayed, choose File→Page Setup.

The Page Setup dialog box appears.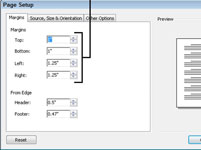 2

Click the Margins tab.

Use the up and down arrows (called spinner arrows) to increase or decrease margin settings, or type a new measurement in any of the Margins boxes.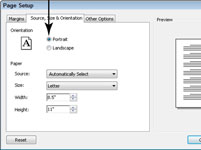 3

Click the Source, Size & Orientation tab.

Select either Portrait orientation (with the longer edges of the paper on the sides) or Landscape (with the shorter edges of the paper on the sides). You can use the Paper settings to specify the size of paper you want to print on — and, if your printer has multiple paper trays, you can also select the tray that the paper is located in.
4

Click OK.

Your selections are applied to this document only.

If you're inserting a header or footer (for example, a page number or the name of the document that you want to appear on every page on either the top or bottom), you should adjust some settings in the Page Setup dialog box.

On the Margins tab, you can specify how far from the edge of the paper the header or footer should appear. On the Other Options tab, you can control what page number you start with and whether the header or footer should appear on the first page of the document. (To insert headers or footers into your document, use the Header and Footer command on the View menu.)