For Seniors: Change a Password for Your Windows Laptop
For Seniors: Change a Password for Your Windows Laptop
If you log into Windows using an online account, your password is the password associated with your Windows Live account. If you set up a local account not associated with an online account, you create a password when you set up the account.
1

To change a password, press Win+I, click Change PC Settings.

Then click Accounts.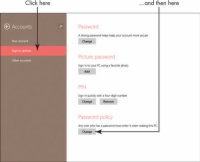 2

In the Accounts panel, click the Sign-In Options, and then click the Change button under Password.

You may be asked to enter your current password to proceed.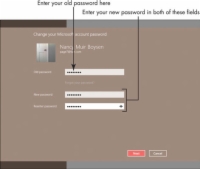 3

In the Change Your Microsoft Account Password screen, enter your current password, and then enter the new password and confirm it.

Make sure your password is something you can remember, but not obvious to others.
4

Click Next. Click Finish.

You can use a similar procedure by clicking Change PIN Sign-in Settings in the PC User Settings to assign a four character PIN for logging into your account, rather than a password. PIN's are typically shorter than passwords (four characters), so they save you time if you log on and off Windows throughout the day.

After you create a password, you can go to the PC Settings window and change it at any time by clicking Accounts→Sign-in Options→Change.