For Seniors: Buy Video Content at the Windows Store
For Seniors: Buy Video Content at the Windows Store
The Windows Store offers a wonderful selection of content that you can buy or rent and play on your computer. Purchasing video involves making your selection and providing payment information to make your purchase.
1

To shop for video, you use the Video app, which you access through a tile on the Start screen.

Click the Video app tile to get started.
2

Click a featured title in the Windows Store or click the Movies or TV Store link above the featured listings and choose a category of movie to locate the one you want.

Once you find a movie you want, click on it.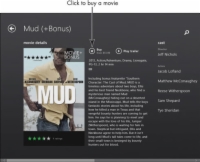 3

Click the Buy button. (If you wanted to rent the movie, you'd click the Rent button at this point.)

Depending on whether you're signed into your Microsoft account, you may be prompted to enter your password and asked whether you want to be asked for your password whenever you make a purchase; click Next.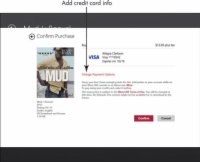 4

In the screen that appears, if you haven't provided payment information to Microsoft before, click Change Payment Options and add a credit card. Click Next.

If you're renting, you may be asked to choose a viewing option, such as HD or SD, download or streaming, and click Next.
5

Click the Confirm button. In the screen that appears, click Done; your purchase downloads to your Video library.

To find videos you want, just start typing the name of the video on the Start screen. When the Search results appear, click the video to view more details or buy it.