How To Burn Windows' Photos to a CD or DVD
How To Burn Windows' Photos to a CD or DVD
You can burn (save) a copy of Windows' photos to a CD or DVD disc, and then share the photo CD or DVD with friends or use the photo disc as back up for the original photos if they get damaged. A DVD holds about 5 times more data than a CD, but both are equally suitable for saving photos.
1

Insert a writable disc (CD or DVD) into your disc drive, then choose Start→Pictures.

The Pictures library opens in Windows Explorer, displaying a list of related folders and images. If needed, double-click folders until you locate the images you want to save.
2

Double-clicking the first photo you want to save.

The photo is displayed in Windows Photo Viewer.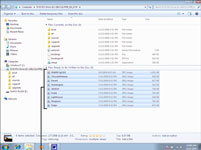 3

Click the Burn button and then choose Data Disc. Click the balloon that appears.

When you choose Burn→Data Disc, a balloon message appears on the taskbar indicating that you have a file waiting to be burned to disc. Click the balloon, and a list of files waiting to be burned appears. You can add more photos to the list of files to be burned.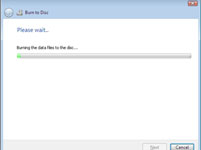 4

Click the Burn to Disc button, enter a name in the Disc Title field (the default name is today's date), then click Next when you're ready to burn the disc.

A progress window appears. When the files have been burned to the disc, a confirmation dialog box appears, and your disc drawer opens. Click Finish to complete the process and close the dialog box.

If you want to check the photos you've added before you burn the DVD, click the Preview button in the Ready to Burn DVD window.