For Seniors: Apply AutoFormats to a Microsoft Works Spreadsheet
For Seniors: Apply AutoFormats to a Microsoft Works Spreadsheet
You can format the cells in Microsoft Works spreadsheet manually, or with an AutoFormat. AutoFormat applies a set of number formats, fonts, cell colors (shading), and borders to selected cells with a single click.
Even after applying an AutoFormat, you can apply manual formats to the same cells. For example, you might apply an AutoFormat and then decide that your spreadsheet might look better if the totals row had a light blue shading (fill color). Some formats, such as font and font size, can be applied using the buttons on the toolbar. Other formats are applied using the options on the Format menu.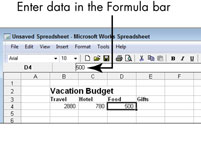 1

Select the cells you want to format.

To select multiple cells (a range), click a cell and drag up, down, right, or left.
2

Choose Format→AutoFormat.

The AutoFormat dialog box appears.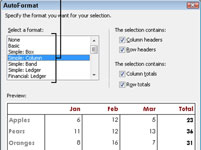 3

Select a format from the list provided.

You see a preview of the design. If you like, you can modify the settings for including column and row headings and totals by selecting or deselecting any of the four check boxes on the right side of the dialog box.
4

Click OK.

The formats associated with the AutoFormat you choose are applied to the selected range of cells.