For Seniors: Apply a Design Theme to Windows Live
For Seniors: Apply a Design Theme to Windows Live
If you spend a lot of time in Windows Live, you might want to customize its environment by applying a design theme with a preset design and color set. Windows Live includes Hotmail (an e-mail program), Messenger (a text message program), and SkyDrive (a cloud drive). Although adding a theme won't affect what you can do within Windows Live, it can make the whole experience more personal and fun.
The best thing about themes is that you can apply a new one whenever the mood strikes you. You might change themes each season, for example, or apply a holiday theme to celebrate.
1

Choose Options→More Options.

The Hotmail Options page appears.
2

Under Customizing Hotmail, click Themes.

The Themes page appears.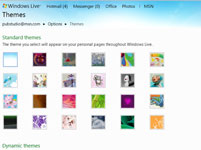 3

Click a theme from the list.

A dynamic theme changes based on the current time. For example, if it's nighttime where you are, a dynamic theme will change to background with a dark sky.