For Seniors: Allow Firewall Exceptions
For Seniors: Allow Firewall Exceptions
When you have a firewall active, you can allow certain programs to communicate through that firewall. For example, you might want to allow live apps such as Weather or Video to send information or content to your computer.
1

Right-click the Start button on the Desktop and then click Control Panel in the menu that appears.

Click System and Security.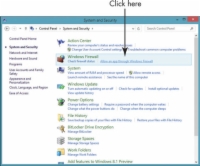 2

In the resulting System and Security window, click Allow an App through Windows Firewall.

The Allow Apps window will appear.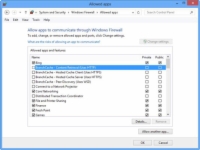 3

In the Allowed Apps window that appears, click the Change Settings button.

Then select the check boxes for apps on your computer that you want to allow to communicate over the Internet without being stopped by Firewall.
4

Click the Private and Public check boxes to narrow down whether you want only networks that are secure to allow this communication, or both secure and public and non-secure networks to do so.

Click OK.

If you allow apps to communicate across your firewall, it's very important that you do have antivirus and antispyware software installed on your laptop — and that you run updates to them on a regular basis.

These types of programs help you avoid downloading malware to your laptop that could bother you with advertising pop-ups, slow your laptop's performance, damage computer files, or even track your keystrokes as you type to steal your identity. If you don't want to pay for an antispyware program, consider a free solution such as Spyware Terminator.