How to Add Contacts to Windows Live Hotmail
How to Add Contacts to Windows Live Hotmail
To make addressing e-mails faster, you can save people's e-mail addresses in the Contacts List in Windows Live Hotmail. Contacts that you add to Hotmail can be used with Windows Live Messenger as well, to send text messages, and with SkyDrive, to share files.
1

In the Windows Live Hotmail main window, click the Contacts link.

The Contacts page appears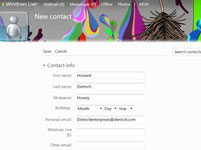 3

Enter the contact information that you want to save.

Enter the contact's first and last name, and e-mail address. Enter any other information you want, such as addresses, phone numbers, company name, and so on.
4

Click Save.

The new contact is saved in the Hotmail Contact list. If you switch to the Messenger Contacts page, you'll see that this new contact is saved there as well.

You can search contacts by clicking Contacts in any Windows Live Hotmail window and entering search text in the Search Your Contact List field. You can also click the letters listed across the top of the Contacts window to look for people whose last names begin with that letter.