How to Add a File to Your Windows Favorites List
How to Add a File to Your Windows Favorites List
The Favorites list in the Windows Start menu offers another quick way to access frequently used files and folders. Add favorite files and folders to the Start menu and to the Navigation pane in Windows Explorer so you can access them quickly.
1

Right-click Start, and choose Open Windows Explorer.

The Windows Explorer window (also called Computer) opens.
2

Double-click a folder or series of folders to locate the folder or file that you want to designate as a favorite.

As you double-click each folder, the folder's contents is displayed. Eventually, you will dig far enough to find the file or folder you want to make a new favorite of yours.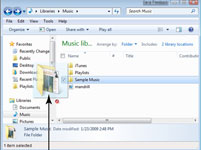 3

Click a favorite file or folder and drag it to any of the Favorites folders in the Navigation pane on the left.

The file or folder is added to the Favorites list, which appears in Windows Explorer and on your Start menu.
4

To see a list of your Favorites using the Start menu, choose Start→Favorites.

A list of favorites appears.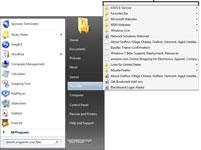 5

Click an item.

If the favorite is a folder, it opens in Windows Explorer, displaying its contents. If the favorite is a file, it opens in the program associated with it.

If the Favorites menu doesn't display on your Start menu, right-click the Start menu and choose Properties. On the Start Menu tab in the Taskbar and Start Menu Properties dialog box, click the Customize button. Make sure that Favorites Menu is selected, and then click OK twice to save the setting.