Change the Background and Text in Your iLife '11 iDVD Project
Change the Background and Text in Your iLife '11 iDVD Project
Many iLife iDVD themes let you change the background image and text of the theme while keeping the drop zones (sections of the menu background that can play videos and slideshows or feature photos). For example, the Modern theme's Main template offers a plain background that's easy to replace.
To change the background of a theme, follow these steps: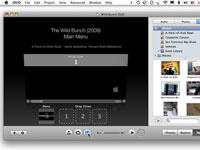 1

Click the Drop Zone Editor button under the Viewer (the icon with the arrow pointing into an open rectangle).

The Drop Zone Editor appears, with a well for each of the menu's drop zones (some themes have only one drop zone, and certain older themes have no drop zones) and the Menu well for the menu itself. The Theme Browser on the right side of the iDVD window switches to the Media Browser.
2

In the Media Browser, click the tab for the type of media you want to add.

Click the Audio tab to browse your GarageBand songs or iTunes library, the Photos tab to browse your iPhoto library, or the Movies tab to browse your iMovie videos and video files in your Movies folder.
3

To change the background image of the menu, drag content to the Menu well.

For example, you can drag a photo from the Photos tab of the Media Browser to the Menu well in the Drop Zone Editor. You can just as easily add a video as a background by clicking the Movies tab and browsing to find your video, and then dragging the video to the Menu well — although with some themes, a video background may be too distracting.
4

To change the title, click inside the current title and then click the Info button in the lower-left corner of the iDVD window to show the Text Info Window.

Change the title to something memorable.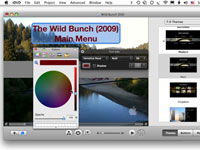 5

Format the title text however you like using the options in the Text Info window.

The window includes the font, typeface, and size pop-up menus, plus buttons for left-aligned, centered, or right-aligned text. The window also includes the Shadow option for adding a drop shadow to the text, and a color tile showing the text color. Click the color tile to open the miniature Colors window, and then click a color to change the text color or drag the slider to change the color's intensity (or both).
6

To close the Drop Zone Editor, click the Drop Zone Editor button.

It's the same button you used to open it.