Horses
Majestic. Beautiful. Powerful. And a little bit stinky. But that's okay, because horses are some of the most incredible creatures on earth. Learn more about them right here.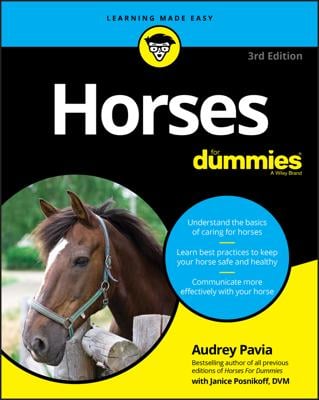 Horses
Horses For Dummies
Updated for today's beginning horse enthusiasts! If you're just getting into the world of horses, there's a lot to learn! Horses For Dummies gets beginning-level riders and aspiring first-time horse owners up to speed on all things equine! From selecting the right horse for you to feeding, grooming, and handling a horse, this book covers it all! Featuring updates on breeds, boarding, nutrition, equipment, training, and riding—as well as new information on various equine conditions—this resource shows you how to keep your horse happy and take your riding skills to the next level. Features updated safety information Includes more riding disciplines Offers tips for better nutrition for your horse Provides grooming and training recommendations If you're crazy about horses, this hands-on guide is all you need to giddy up and go!
Explore Book
Buy On Amazon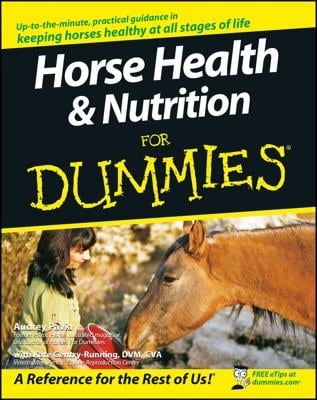 Horses
Horse Health and Nutrition For Dummies
Want to know the best ways to care for your horse? Horse Health and Nutrition For Dummies gives you up-to-the-minute guidance on keeping horses healthy at all stages of life. It provides the latest information on equine nutrition and healthcare, explaining how your horse's body functions and how to keep it in good working order. Packed with practical advice on equine first aid and alternative therapies, this completely practical, plain-English guide explains exactly what to feed your four-legged "hayburner" and how much. You'll find out what kind of preventive care is vital to keeping your horse in good physical shape and how to recognize signs of illness when things go wrong. You'll get the low-down on the diseases and conditions most likely to plague the domestic horse and find help in deciding whether to treat problems yourself or call the vet. Discover how to: Manage your horse's diet House your horse safely and comfortably Tend to the daily details of horse care Examine coat, eyes, hooves and manure Identify, control, and prevent equine diseases Understand links between horse behavior and health Practice good horse nutrition Grow your own horse food Cover horse-health-care costs Breed your horse Care for pregnant mares and newborns A healthy horse is a happy horse. Keep your horse fit with a little help from Horse Health and Nutrition For Dummies, and you'll be happy too!
Explore Book
Buy On Amazon