Fish
Raising fish can be a ton of fun, whether you're going the freshwater or saltwater route. Learn to get started, deal with issues like algae, and keep your fish healthy with our easy-to-follow articles.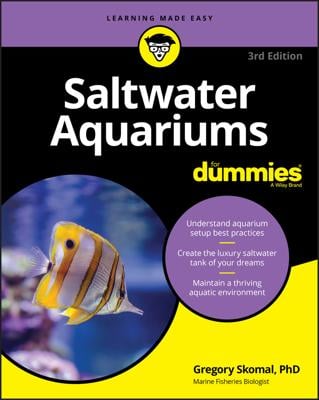 Fish
Saltwater Aquariums For Dummies
Dive into the wonderful world of saltwater fish Setting up and keeping a healthy, thriving saltwater aquarium—and the gorgeous creatures that live within it—takes a lot more know-how than you might realize. Fortunately, this friendly and informative guide is here to make having a slice of the salty life in your own home easier than ever! This fully updated edition of Saltwater Aquariums For Dummies explains in plain English how to care for a variety of marine fish and invertebrates, upkeep a tank, feed your saltwater friends, and stay informed of the latest technology in luxury tanks! Understand aquarium set up best practices Maintain a thriving aquatic environment Build the luxury saltwater tank of your dreams Be inspired by a full-color insert Whether you're looking for basic information on how to set-up, start, and maintain a saltwater aquarium or already own one and want to whet your appetite with the latest tips, tricks, and design ideas, this book covers the gamut!
Explore Book
Buy On Amazon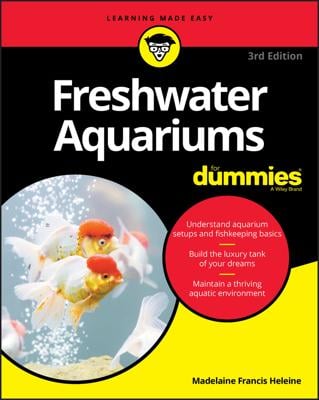 Fish
Freshwater Aquariums For Dummies
Give your underwater pets the best aquatic life ever! Aquarium fish are one of the most popular pets in America, with close to 150 million fish owned in nearly 13 million households. They seem like easy pets to care for, but there's more than meets the eye when it comes to keeping your freshwater friends healthy and happy! Inside, you'll find basic information to start your own freshwater aquarium, purchase and maintain healthy fish and plants, and find tips and tricks on how to introduce new fish and systems into your aquatic family. Understand the best aquarium set-up practices Build the luxury tanks of your dreams Maintain a thriving aquatic environment Discover many different ways to expand your hobby Perfect for beginner hobbyists and longtime aquarium enthusiasts alike, Freshwater Aquariums For Dummies makes it easier than ever to set up and take care of a freshwater aquarium—and the fish within it.
Explore Book
Buy On Amazon
Fish
Koi For Dummies
Known throughout the world for its beauty and personality, koi is one of the most carefully bred fish species around. Raising koi is especially time-consuming and requires more than just sprinkling little flakes in the fish bowl. But thankfully, you don't have to be an expert to maintain your own koi pond. Koi For Dummies shows you how easy and fun it can be to own and care for these delicate fish. Whether building a pond or aquarium for the indoors or outdoors, this easy-to-understand guide explores all of your options. Clear, concise advice helps you: Appreciate your koi's beauty Build, design, and maintain your koi pond or aquarium Find and select koi and the proper supplies Keep your koi happy and healthy Treat your koi for parasites, bacterial infections, and viruses Breed and care for baby koi Show off your koi to other koi enthusiasts
Explore Book
Buy On Amazon