Is there anybody who doesn't like going to a big public aquarium? I don't think so. You can see and discover so much at an aquarium, and there's usually not enough time to see it all in one day. For the home aquarist, the large public aquarium is also a great place to see just how a healthy aquarium should look. These places are loaded with information about fish, invertebrates, marine mammals, reptiles, and amphibians. Don't be afraid to steal an idea or two about aquarium decoration, species composition, and the re-creation of natural settings.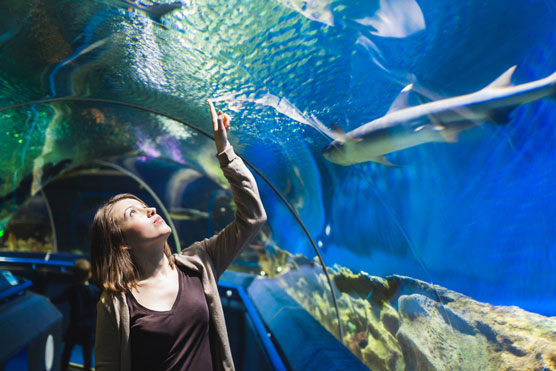 ©fischers/Shutterstock.com
I've been to public aquariums all over the United States; here are a bunch that I really liked. This is in no way a comprehensive list of aquariums, just a smattering. No matter where you live, there's an aquarium not too far away. So, if you don't see one close to you listed here, poke around online and you'll find one.
New England Aquarium
Since I'm from the northeast and still live there, the New England Aquarium in Boston, Massachusetts, was one of the first large public aquariums that I ever visited. In fact, I dare say that the Giant Ocean Tank loaded with all kinds of fishes, including sharks, helped to inspire me to become a marine biologist and home aquarist. Check it out online as well.
Mystic Aquarium
Located in, you guessed it, Mystic, Connecticut, this aquarium not only houses all kind of fish and invertebrates, but it's well known for its incredible display of beluga whales. You can start your visit to Mystic Aquarium online.
National Aquarium
The next time you're kicking around the beautiful waterfront in Baltimore, Maryland, you should make it a point to visit the National Aquarium. This aquarium is chock-full of all kinds of animals including birds, amphibians, and reptiles; it also has an incredible dolphin amphitheater.
Georgia Aquarium
Touted as the largest aquarium in the world, the Georgia Aquarium in Atlanta is an incredible facility with more than eight million gallons of saltwater and freshwater and more than 120,000 animals representing 500 species. One of the highlights of the aquarium is the Ocean Voyager gallery, which allows you to view the largest fish species in the world, the whale shark, through a 100-foot underwater tunnel.
SeaWorld
The SeaWorld name is synonymous with ocean-oriented parks and combines animal attractions with rides, shows, dining, and shopping. With parks in Orlando, Florida, San Antonio, Texas, and San Diego, California, SeaWorld offers a little of everything for everyone, including that oddball family member that doesn't like fish.
Tennessee Aquarium
Now, granted, people usually don't think of Chattanooga, Tennessee when it comes to saltwater, but the Tennessee Aquarium has a fantastic collection of marine animals. Also, this may a book for the saltwater enthusiast, but freshwater counterparts are people, too, and the Tennessee Aquarium is among the largest freshwater aquariums in the world.
Audubon Aquarium of the Americas
How do you combine great music, fantastic food, and marine life? You go to the Aquarium of the Americas in New Orleans, of course. Having conducted research in the bayous of Louisiana, I can tell you that these unique habitats house some of the toughest critters in the world, like bull sharks, alligator gars, and catfishes. But you don't have to brave the mosquitoes to see all these critters and more if you drop by this aquarium.
Monterey Bay Aquarium
Located in a quaint, historic Monterey, California, this aquarium offers a phenomenal and incredibly natural re-creation of Pacific marine habitats and their inhabitants. With exhibits ranging from kelp forests to the open ocean, this aquarium has all kinds of Pacific fishes and animals including sea otters and penguins. My personal favorite is the Open Sea exhibit, which houses giant bluefin tuna, ocean sunfish, and the scalloped hammerheads. See more of the Monterey Bay Aquarium at their website.
Shedd Aquarium
A trip to Chicago wouldn't be complete without a visit to the Shedd Aquarium. Touted as one of the largest indoor public aquariums, Shedd Aquarium has been around since 1930 and currently houses more than 30,000 animals. Don't let its location fool you; there are plenty of saltwater exhibits with an amazing assortment of marine animals from sharks to whales.
The Seas with Nemo and Friends
Formerly called The Living Seas at Walt Disney World, The Seas with Nemo and Friends aquarium is a great way to cap off a family vacation at this amazing resort. Based on the popular fish-related movie, Finding Nemo, this aquarium combines entertainment with aquarium viewing. Visitors board Clamobiles and venture into the sea with popular characters of the film, then view all kinds of tropical fishes, dolphins, manatees, and sharks in the main pavilion.
About This Article
This article is from the book:
This article can be found in the category: