eBay
All of the excitement of an auction without that guy who talks really fast. eBay was one of the standout stars of the early dot-com boom, and it's here to stay.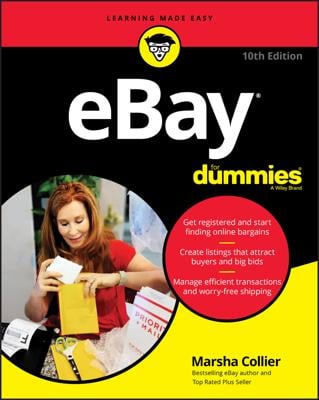 eBay
eBay For Dummies, (Updated for 2020)
It's a bargain! The definitive guide to buying and selling success on eBay - fully updated for 2020 Want to know the best way to get rid of some of that clutter laying around the house and make some cash? Or sell that beautiful jewelry you made recently? It might be time to take a quick trip to a market with more than 175 million buyers and start a global bidding war. eBay remains the easiest way to sell to hungry consumers worldwide and to uncover incredible bargains and unique items for yourself in the process. Marsha Collier, longtime eBay business owner and one of their first elite PowerSellers, shares 20+ years of expertise to fast-track you to becoming a trusted buyer and seller on the site. You'll find out how to set up your account, market effectively, and master shipping and payment, as well as how to find the best bargains for yourself and close those sweet, sweet deals. Establish your eBay store Find techniques to make your listings stand out Make money and friends with social media Bid or buy outright Whether you're a bargain hunter or bargain seller, declutterer or aspiring eBay tycoon, eBay for Dummies has what you need. Put your bid on it right now!
Explore Book
Buy On Amazon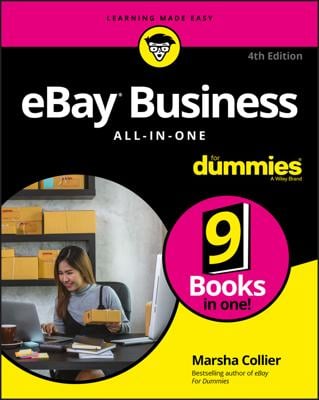 eBay
eBay Business All-in-One For Dummies
The selling, marketing, and business tips you need to succeed eBay is the perfect place to learn the ropes of what it's like running an online business. It provides the tools, technology, and platform a would-be entrepreneur needs to launch their first successful small business. It takes some know-how, however, to get that business off the ground and grow it into a success. In eBay Business All-in-One For Dummies, Marsha Collier shares the expertise she gained as one of eBay's first Power Sellers on how to get ahead, stay ahead, and expand your business onto other platforms when it's time to grow. eBay continues to grow as it connects new individuals with items to sell with would-be buyers every day. Combining essential information covering seven key topics, this all-encompassing guide shows fledgling entrepreneurs how to sell like a pro, present and market your items, become a power seller, deal with office and legal issues, and so much more. Discover the secrets behind driving views for listings Find out how to source merchandise for resale Get advice on the back-office tasks of running a business Grow your business beyond the eBay platform If you have an eye on building a business on eBay—and beyond—this is the one-stop guide you need to succeed.
Explore Book
Buy On Amazon
eBay
eBay For Seniors For Dummies
eBay is a great place to help seniors find bargains or supplement their income by selling items. This book offers the basics on buying or selling on eBay with confidence in a format that's ideal for the senior audience, including a larger print format than traditional For Dummies books. Author Marsha Collier is the undisputed authority on eBay. Her advice has helped millions of eBay users navigate the popular shopping and selling site.
Explore Book
Buy On Amazon