Before you jump into buying and selling on eBay, learn a few terms, check out some helpful tips to be a successful seller and buyer, and understand the importance of feedback. The following offers helpful eBay information, tips, and selling strategies.
Top 3 eBay cheat tips
The crew at eBay is hard at work simplifying its forms and pages — making them more user-friendly. Here are a few updated tips:
When writing a description for your item on the listing form, be sure to click Advanced Editing to take advantage of the easy-to-use text formatting tools.
The eBay mobile app has been enhanced with a dizzying array of features. Stick to the basics and when on your smartphone, use the app to shop for deals while you're out and about. It's much easier to read on a larger screen and even better on a computer. To see all the features of the app, tap the "hamburger menu" icon (three parallel horizontal lines) on the top-left corner to reveal an easy-to-navigate menu (shown in the figure below), which gives you many options.
Keep in mind that eBay has made it easier for customers to cancel a purchase. If you've made a mistake when bidding, click Help & Contact at the top of the page on the website, and search for "cancel a bid (or order)" and follow the steps on the page.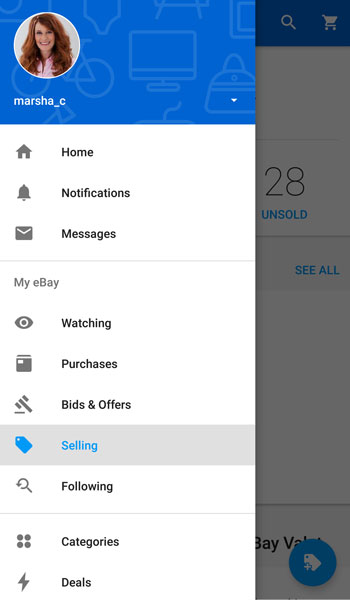 Know your eBay buying terms
To become an eBay power user, it's best to understand some common terms and definitions that you'll see frequently on the website. Bolster your buying (and selling) expertise by understanding these important eBay terms:
Reserve price: The minimum price a seller is willing to accept for an item up for auction that is kept secret during bidding. Setting a reserve price is optional, and only the seller knows what that price is. If the bidding doesn't exceed the reserve, the seller has the option not to sell the item. eBay charges the seller a small fee for this option.
Starting bid: The lowest acceptable bid for an item, set by the seller. This amount must be determined by the seller and is not kept secret. Starting bid amounts are less than auction reserve prices.
Make offer: A seller can place a Best Offer button on a Fixed Price listing. This means if you'd like to get the item a tad cheaper, the seller may be okay with that. Understand that the seller will review your offer, and may turn down the offer (or counteroffer) if he or she feels it is too low or doesn't cover costs.
Auction Buy It Now: You may have the option of purchasing an auction item when this option appears on the item page. If you feel this price is a bit more than you want to pay, place a bid at the starting bid level (or the most you'd like to pay). That way the Buy It Now option disappears and you may just win the item at the lower price.
Proxy bid: You can decide the most you're willing to pay for an item and allow eBay's proxy (automatic) bidding to place bids for you while you go on with your life. The proxy bidder ups the ante incrementally to beat out your competition until you're outbid or win the auction.
Second chance offer: A seller whose reserve price has not been met, or who has more than one of an item after a successful auction, can offer the item(s) still in stock to runner-up bidders. You are not required to purchase the item.
Selling on eBay: 8 strategies and tips
When the eBay selling habit becomes profitable, there's a good chance selling can morph from a hobby to the desire to build a full- or part-time eBay business. Becoming a great eBay seller means there's a financial reward for a bit of work — and a lot of fun — ahead of you. Follow these tips to become a successful seller on eBay:
Answer all eBay messages like questions from prospective bidders and buyers within 24 hours, and when running auctions, check your email hourly before the close. (Doing so can pay off in higher last-minute bidding.) Good customer service goes a long way in promoting and building your eBay business.
When listing a new item, research it online (not just on eBay) and be sure that you know its current value and the going price. If it's a collectible, find out as much as you can about the item's importance, history, and condition.
Before listing, weigh your item and estimate the shipping cost. If it's not cost-effective to offer free shipping, accurately represent shipping costs in your listing, whether you use a flat rate or the shipping calculator for heavier packages.
Double-check to see how many other sellers are selling your item (and for how much). eBay is a supply-and-demand marketplace. When too many people are selling the same item, the price may go down.
To encourage bidding in the case of auctions, set the lowest possible starting bid for your item.
Verify that your item isn't prohibited or considered questionable by eBay. If you're in doubt, read eBay's guidelines and check your local laws.
Add multiple pictures to make your listing more attractive, and make sure that your title highlights the item's keywords — but don't gloss over its flaws. Being direct, informative, and concise shows potential buyers that you're honest and easy to work with.
Be sure to fill in completely as many item specifics as you can, including EAN, UPC, MPN, Brand, and/or ISBN to assure better placement in search.
Buying on eBay: 5 strategies and tips
If you're thinking about buying something on eBay, use these tips to place smart bids and get fixed-price deals on your must-have item:
Research the item before you bid by searching sold listings to see what price similar items have sold for in the past. If the item is new and can be bought in a store, do some online research to find out what the stores are selling the item for. Beware of overbidding!
Make a mental note of the cost of shipping before bidding on an item (should the seller charge for it). Add the shipping cost to your bid to get a clear idea of the total amount you'll be paying.
Check the seller's feedback (and whether they are a Top Rated Plus seller). No matter how high the feedback number, be sure the latest few feedback comments aren't negative.
Bid in odd increments. Most people bid in round numbers (such as $0.25 increments). If you bid in $0.27 increments, you can win by just $0.02!
Have fun and be prepared to pay for whatever you bid on.
Placing a bid on eBay is a binding contract.
eBay feedback dos and don'ts
eBay's members regulate the marketplace through the use of feedback. Leaving feedback on a seller helps future buyers to know who they plan to buy from. Here is a list of things you should and shouldn't do with feedback:
Before you consider purchasing an item on eBay, do check the seller's feedback rating by clicking the number that appears next to the seller's user ID.
Even if you see a large amount of positive feedback, do check to be sure that the seller doesn't also have a growing number of negative feedback responses — especially recently. In the eyes of other eBay members, you're only as good as your last few transactions.
Do take a breather before you leave negative feedback for another eBay member; you're dealing with someone's online reputation.
If someone gives you positive feedback, do reciprocate by giving him or her positive feedback, too.
If you receive negative feedback and feel your side of the transaction is worth telling, do be sure to give your reply in a neutral tone. You may also add a line responding to feedback you've received, to explain the situation to those who read the comment.
About This Article
This article is from the book:
This article can be found in the category:
This article is part of the collection(s):