Most of us have donated to charity in one form or another. But here on eBay, charities really rock. Do you need a Jurassic Park helmet signed by Steven Spielberg to round out your collection (and deflect the odd dino tooth)? Post a bid on one of the charity auctions. How about a signed original photograph of Jerry Seinfeld from People magazine? Yup, you can get that, too. All these and more have turned up in charity auctions. In short, having a big heart for charities has gotten a whole lot easier thanks to eBay.
eBay for Charity
November 2003 was a lucky time for this country's charities. That's the month that eBay launched the eBay Giving Works Charity auction platform. eBay originally teamed up with one of the first charity-giving sites on the Internet, MissionFish, which now runs the PayPal Giving Fund. After 9/11, as "9/11 Auction for America," eBay's giving program originally raised over $10 million through online charity auctions for organizations supporting the victims of the tragedy and their families. More than 911 million dollars have been raised since 2003 on eBay for Charity, supporting more than 66,000 organizations.

If you're involved with a charity, and are certified as a 501(c)(3), you can register your charity to get on the list of beneficiaries. You can also run your own fundraising events on eBay! Just go to the eBay for Charity hub (as shown in the following figure).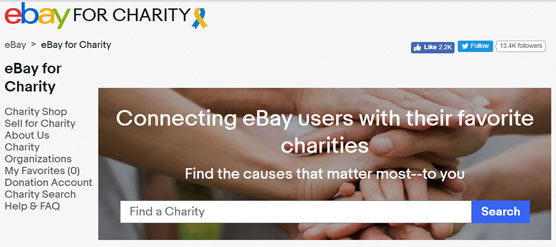 Where eBay buyers and sellers work for good.
The best part is that you can run an auction or fixed-price listing to benefit your favorite charity. Sellers can list items for sale and designate those items to benefit a charity from the eBay for Charity directory (which lists tens of thousands of charities). The seller can also specify what percentage (from as little as 10 percent up to 100 percent) of the sale's proceeds go to the charity. You can browse to select the charity of your choice on the Giving Works page. When you list your item for sale, you can indicate — on the Sell form's Create Your Listing section — to which charity you'd like to donate proceeds, and what percentage of the final sale price to donate.
As you visit different areas of eBay, you can recognize the charity listings by the small blue-and-gold ribbon icon next to them in searches and the Category list.
9/11 Auction for America
In late 2001, eBay took on one of its most ambitious attempts at fundraising: the Auction for America. In response to requests by New York Governor George E. Pataki and Mayor Rudolph Giuliani, eBay called on the community to raise $100 million in 100 days. eBay and Billpoint (eBay's payment service at the time) waived all fees, and community members gave their all, donating and buying all kinds of items to benefit the New York State World Trade Center Relief Fund, the Twin Towers Fund, the American Red Cross, and the September 11 Fund.

In early November, Patti Ruby and Marsha Collier worked with eBay to introduce non-eBay sellers to Auction for America at an event in Southern California. We brought hundreds of people to the site who participated in buying and selling to benefit the victims. There were many such events across the country.

Community member Jay Leno sold his celebrity-autographed Harley Davidson for over $360,260; Tim Allen sold his 1956 Chevrolet Nomad for $46,000; and countless corporate sponsors joined in with the person-to-person community to raise funds. Over 100,000 sellers participated, and over 230,000 items were listed.

The auction ended on December 25, after raising $10 million. This is an amazing tribute to the eBay members and their community spirit.
Creative charity auctions
New charities are popping up all the time on eBay. To see the sales that benefit nonprofits, go to the Giving Works page and click the Shop for Charity link. Here are some of the more creative charity auctions that have been held on eBay:
The highest-grossing charity auctions tend to be the annual event from billionaire Warren Buffett. He donates a private power lunch to benefit the Glide Foundation. The 2019 auction grossed $4,567,888.
Oprah Winfrey has jumped onto eBay with a bang! In 2003, to fund her charity, the Angel Network, Oprah auctioned two chairs from her set. These were not just any chairs. Aside from being luxurious leather chairs designed by Ralph Lauren, they had housed the behinds of famous names such as John F. Kennedy, Jr., Halle Berry, Tom Hanks, Jim Carrey, and Michael Jordan. The 7-day auction netted the charity an amazing $64,100. In 2010 through this year, the media mogul cleaned out her own closet for her Leadership Academy for Girls.
To celebrate Chivas Regal's 200th year, the company chose eBay for CHIVAS 200, the largest online charity auction in the world. From September 6 to October 31, 2001, the Chivas folks auctioned more than 200 of the world's most-wanted items and experiences — such as an opportunity to become a Russian space-station cosmonaut — all for the benefit of charity partners around the world.
Music producer and singer Pharrell Williams decided to put his famous Vivienne Westwood park ranger–style hat up for sale to benefit his non-profit organization, One Hand to AnOTHER. Pharrell wore the famous hat during his performance at the Grammy broadcast in 2014. Folks commented that the hat resembled the logo for the Arby's restaurant chain, so he tweeted through his Twitter account @Pharrell, "Hey @Arbys, you want my hat?" He started the listing on eBay for $200 (what he paid for it), and it did eventually sell to Arby's for $44,100. Arby's thanked Pharrell for the return of their hat on Twitter; the Tweet is shown in the following figure.
When I appeared on The View with Barbara Walters and Star Jones, all four stars of the show autographed a coffee cup that we auctioned off on eBay to benefit UNICEF. We raised over $1,000 on eBay for a single coffee cup! Now that a couple of the hosts have moved on, I wonder what that little cup's worth.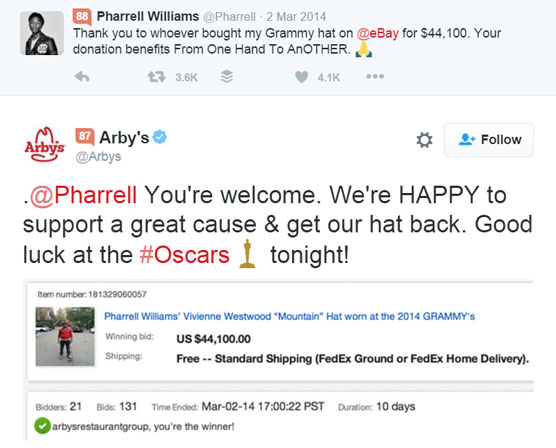 Arby's remarks to Pharrell on Twitter that they are happy to get their hat back.
About This Article
This article can be found in the category: