Social media is no longer in its infancy; it's long since made off with the car keys, so to speak. These days it has become the go-to destination for 69 percent of American adults. The burgeoning number of social media sites draws many eBay sellers and buyers because they are a tech-savvy group. All cultural changes began with words — as do many marketing campaigns — and the experts have decided that the dominant marketing tool today is social media. Social media is now the hub for "word of mouth" (WOM) recommendations and comments.

Social media sites have grown well beyond their initial role as tools of social contact. Following and friending like-minded people on social media networks (and connecting with them) not only builds a sense of community but also gives you a built-in support group.

When I say to connect, I mean to converse. You don't have to sit on the sites regularly; you do need to drop by and respond to people who have commented to you. You also need to reach out and comment to others. Marketing can be a natural next step — if you handle it right. But keep this distinction in mind . . .

Social media discussion is not the same as advertising. You will see many online sellers promoting their goods, one after the other, as their sole "conversation." That's actually more broadcasting — like commercials on TV in the old days. Everyone skipped over commercials then — and they skip over them now. Ads-as-faux-conversation is old school and not very interesting to anyone who's following you online.

Best practices on social media commerce require engagement with other community members. If you want to share the items you have listed on eBay on your social pages, use this strategy sparingly. Be sure shared listings are not the only (or last five) posts in your stream.

Many small businesses on social media try to get hundreds of followers for their social media pages. A multitude of friends and followers does not equate to producing massive sales. The quality of your conversation and the people you connect with is what draws people to you.
Finding friends and customers on Facebook
You have a Facebook page, right? You share fun thoughts and ideas with your family and friends, right? Well, when you set up an eBay business, you can have a page for your small business. I'm not suggesting that you'll be directly selling from your Facebook page (although you can), but having a page is an efficient way to meet people online and interest them in what you're selling.

Your initial base for building a business page comes from your friends. When you get more than 25 people to "like" your business page, you can get a custom URL from Facebook for the page. Mine is www.facebook.com/MarshaCollierFanPage (because it was established a long time ago — when they were called "fan" pages). The page is different from my personal page at www.facebook.com/marsha.collier. I try to treat each page differently, encouraging more intimate contact on my personal page, and posting business information and conversation on my business page. Even my pictures are selected for a different style.

Unless your political and religious views reflect your core self and/or your business, it's best to stay away from making public statements on these topics. Whatever you put on the Internet is indexed and recorded somewhere — and your prospective customers may be put off if they do not hold the same views as you.

As a subtle touch on my business page, I use an application (see the following figure) called Auction Items (despite the name, the app also posts your fixed-price listings). Applications such as this can only be used on business pages. The application will be listed in the links on the left side of your business page. I find this app gives my items punch, and yet isn't as "in-your-face" as other marketing programs. You can put it on your page (if Facebook qualifies your page).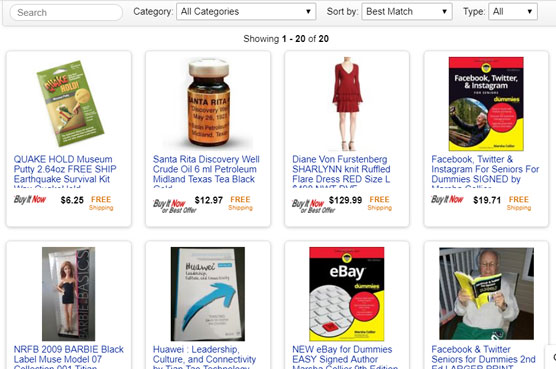 The Auction Items application on my Facebook business page has clickable links that go directly to a page with my eBay listings.
The publishers of the app also offer other free tools. They enable eBay sellers to embed their listings into their websites by inserting a short HTML code into the website or via a WordPress plug-in. You can learn more about these by visiting eSoftie.com and clicking Products.
Another example is my friend (and fellow eBay seller — dnasupplies) Anita Nelson. She has two Facebook pages as well: one personal and one for her business, ModelSupplies. She is also @ModelSupplies on Twitter.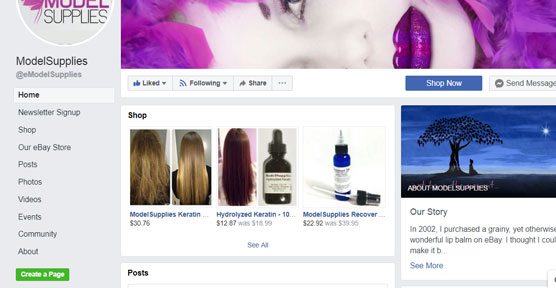 The ModelSupplies Facebook page builds her eBay business on Facebook.
For a more detailed explanation of how to best use Twitter and Facebook, you might like Facebook, Twitter & Instagram For Seniors For Dummies (even if you're not a senior)!
Connecting with other sellers on Twitter
At this writing, Twitter has 500 million total users (more than 330 million active users) and serves up over 500 million tweets a day. What's a tweet? Not just a sound effect from a parakeet anymore. Now it's a short online comment from one Twitter user to another; tweets often flit back and forth between users who follow each other. Tweets are not only comments but also other quick notes that can be quotes, links to news stories, and the occasional self-promotion.

If you like to chat, comment, and read news stories, I'll bet you'll like Twitter. You don't have to be there all day, because when people "talk" to you there, you will see it in your "Notifications" column (you can see that on my Twitter page in the following figure). To answer, you just click the Reply link.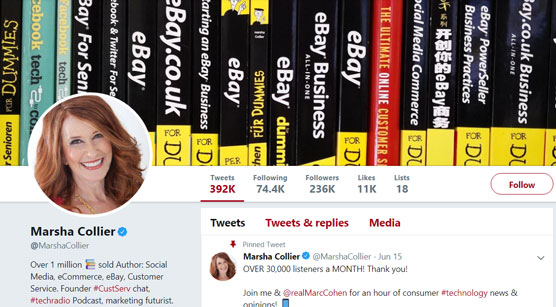 When I talk to folks on Twitter, they appear as my "tweets & replies."
You'll find that your conversations on Twitter will engage you — but only if you engage with your followers. Those who are constantly broadcasting are just trying to build follower numbers — but it's been proven that this practice will not increase sales.
So, if you go to Twitter.com and sign up, you need to give your Twitter stream a name. I suggest that you use your real name — for several solid reasons:
Friends will find you easier.
If you change businesses down the line, you won't have to start over with a new name.
On the Internet, you are the face of your business — and everything you post is archived somewhere. Your tweets on Twitter are archived in the National Archive (no joke).
If it's good enough for @MichaelDell (founder of Dell), @SteveCase (founder of AOL), and @RichardBranson (founder of Virgin Group), I'd say it's a good idea for you too.
After you sign in, you need to put up a picture and fill out a short bio. The first thing you need to do is put up a picture — preferably yours. People like to see what you look like when they find you on Twitter. Do everyone a favor and describe yourself clearly, as best you can, in the allotted 160 characters.

After you fill out all the cyber-paperwork, you'll see your very own Twitter page. It will be a very blank page. Don't be sad and lonely — you can begin by following me, @MarshaCollier. Say Hi, and I'll follow you back.

When you visit my Twitter page, you'll see a tab that, when clicked, reveals Lists that I've made of people on Twitter. I've made one full of eBay Social Sellers that lists eBay sellers who participate in social media and are fun to follow. Just click on the link. On the list page, just click the link and you will automatically be following everyone on the list.

When you see their tweets in your stream, click the Reply link to say hello — or share something interesting. No doubt they will follow you back.

To find other people to follow, I suggest that you go to the search box on Twitter. Here you can type keywords that reflect your interests or the items you sell, and you will be presented with a list of accounts who have mentioned this word in their tweets. I put in a search for antiques, clicked the People tab in Results, and found a long list of people with similar interests, shown here.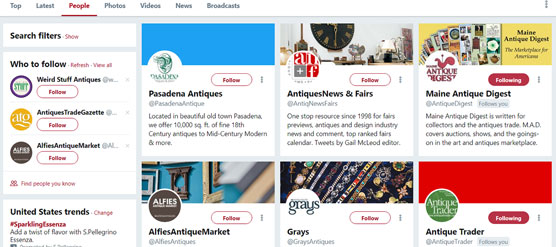 A built-in list of people who have a passion for antiques on Twitter.
Type in your hobbies and your interests. You'll find a bunch of people to follow, and your Twitter home page will become far more interesting.
About This Article
This article can be found in the category: